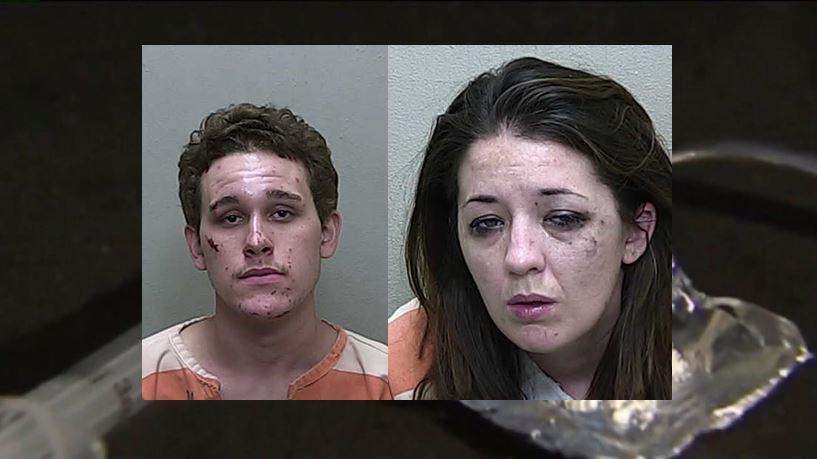 Trial by jury for two convicted felons has been postponed due to COVID-19. Additionally, the public defender working the case withdrew himself citing a conflict of interest.
The incident began on Halloween following a pursuit.
The two suspects, Andrew William Wiggins, 20, and Ashlynn M. Fox, 26, fled from deputies in the 12000 block of West Highway 40 following a traffic stop.
After a short pursuit, Wiggins crashed the vehicle, a 2002 Nissan, into a tree.
Both suspects were transported to a local hospital and treated for their injuries.
While at the hospital, an X-ray revealed that Fox had shoved something into her vagina. Fox stated that she was not hiding anything, however, when Fox requested to use the restroom two baggies fell out and onto the floor. The baggies allegedly contained heroin and Clonazepam (a seizure medication).
Fox stated, "I don't do drugs."
Inside the vehicle, deputies found a scale, 50 baggies, 11 Dilaudid pills, methamphetamine, cocaine, needles, heroin, Promethazine Hydrochloride (an anti-nausea medication), and a spoon.
Wiggins was charged with Fleeing and Eluding, Possession of Cocaine, Driving on a Suspended Driver's License, Possession of Methamphetamine with Intent to Distribute, and Violation of Probation Grand Theft Auto.
Fox was charged with Possession of a Controlled Substance without a Prescription, Possession of Heroin, Possession of Drug Equipment, and Possession of Promethazine without a Prescription.
Higgins and Fox are convicted felons with lengthy criminal records in various counties.
The trial will be scheduled for sometime in 2020.