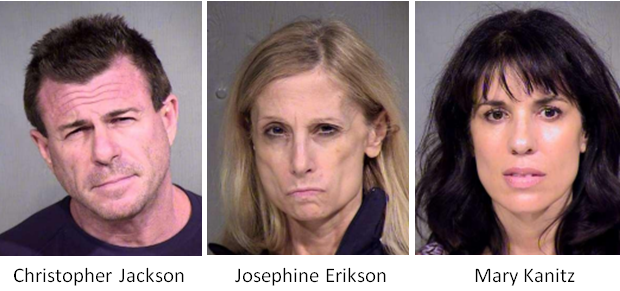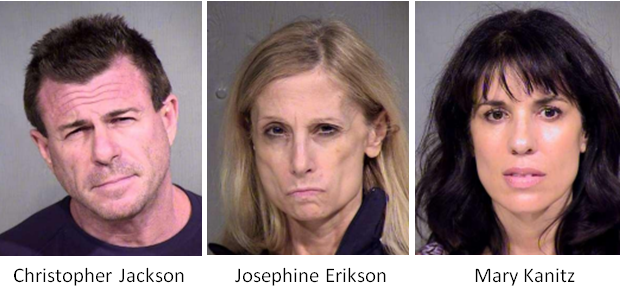 Arizona — A man and two women have been arrested in Arizona after authorities found videos in the man's house that contained footage of the three individuals having sex with a dog.
Christopher Lynn Jackson, 47, Josephine Erikson, 61, and Mary Kanitz, 48, have all been indicted by an Arizona grand jury on charges of bestiality. The Maricopa County Sheriff's Office said that a search warrant performed on Jackson's home uncovered homemade videos that show the trio "performing various sex acts with a male German Shepherd."
While those charges alone are quite sick, the event that transpired and ultimately led police to search Jackson's home in the first place is downright disturbing.
According to authorities, a woman who is an ex-girlfriend of Jackson's reported that she and Jackson had attended a baseball game together. After the game was over, Jackson wanted to go dancing, but the woman told Jackson that she was too tired for that.
He then offered her a pill to "energize her," according to reports. She told police that after taking the pill, she was still tired, so Jackson gave her two more pills. Not long after taking the additional two pills, she passed out, said police.
When the woman awoke sometime later, she was in Jackson's bed and in severe pain, according to reports. The woman told police that she saw Jackson holding a branding tool and a butane torch, and then she realized why she was in pain.
According to reports, Jackson had taken the branding tools and burned a "C" and "J" on the woman's vagina. She said he then "bragged" to her about other women he had branded in the past.
According to the arrest affidavit, Jackson stated to the woman, "I did it because that p**sy is mine."
Authorities said a physical examination performed on the woman clearly showed a visible "C" and "J" branded onto her.
A statement released by the Maricopa County Sheriff, said, "The pain this suspect must have caused when burning his initials onto their genitals is incomprehensible." He added, "To treat women like property and then to encourage them to participate in acts of bestiality is disgusting."
Jackson was initially charged with Aggravated Assault with Serious Physical Injury, but after investigators discovered the videos in his home, he was rebooked into the Maricopa County Jail on Bestiality charges.
The dog was removed from the home.