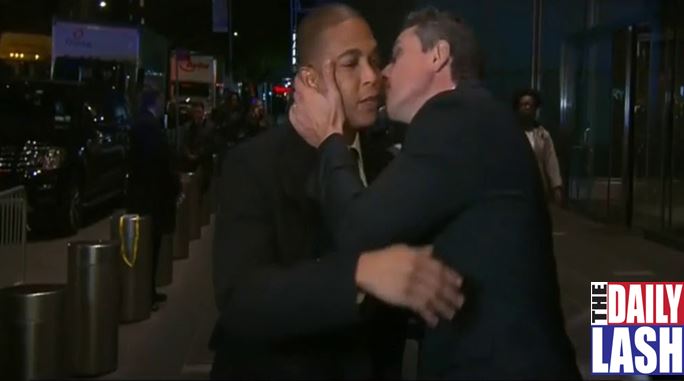 CNN host Don Lemon, a man who has been known to berate whites and blacks who support President  Donald Trump,  was accused sexual assault on a bartender in New York's Tony Hamptons last year.
A civil lawsuit was filed earlier this week on August 11, in Suffolk County Court.
On July 15, after closing, Dustin Hice, who was working at The Old Stove Pub in Sagaponack, states that he left with the owner and co-workers to party at another bar, Murf's Backstreet Tavern, in Sag Harbor.
According to the lawsuit, he saw Lemon there.
Hice said he recognized him and offered to buy him a "lemon drop", a drink made with vodka, but Lemon refused the drink.
However, Hice said Lemon later approached him.
Hice said Lemon, who is gay, "put his hand down the front of his own shorts, and vigorously rubbed his genitalia, removed his hand and shoved his index and middle fingers into [Hice's] mustache and under Plaintiff's nose."
The lawsuit states that Lemon allegedly asked Hice an indecent question about Hice's sexual preference.
Hice said the question left him "shocked and humiliated."
Hice, in the lawsuit, says that Lemon's demeanor off-camera is much different than the "#metoo" advocate portrays to his viewers. When the cameras are off, Lemon is very disturbing, Hice said in the lawsuit.
CNN is standing behind Lemon. CNN says that Lemon is being attacked and that Hice is trying to extort money from Lemon.
CNN has also accused Hice of attacking Lemon on social media, but Hice says he has never ranted about anyone online.
"I have never ever ranted about anyone, especially a news station. … I am a private, religious man," said Hice.
Hice's ex-boss, George Gounelas, has since come forward and stated that he witnessed the incident.
In an interview with Fox News, Gounelas said, "Dustin worked for me as a bartender [and] we went out after work one night. We were standing there and he said, 'Hey, that's Don Lemon. Murf's is a place you go to drink after you've been out drinking. We had just gotten off of work. So that's why we ended up there, because we worked in the restaurant business. So by the time everything is done, we can only hit a late-night spot."
Gounelas says Lemon was drunk, and that Lemon was very vulgar toward Hice.
Gounelas said that Lemon said something to Hice like 'Do you like me? Is that why you're bothering me, because you wanna fu*k me?'"
Gounelas told Fox News, "He put his hands down his pants, inside his shorts, grabbed his balls, and then came out with two fingers and, like, clipped Dustin's nose up and down with two fingers asking 'do you like pu**y or d*ck?"
CNN denies all allegations, however, rumors have circulated that Lemon attempted to "pay off" Hice before he filed a lawsuit.