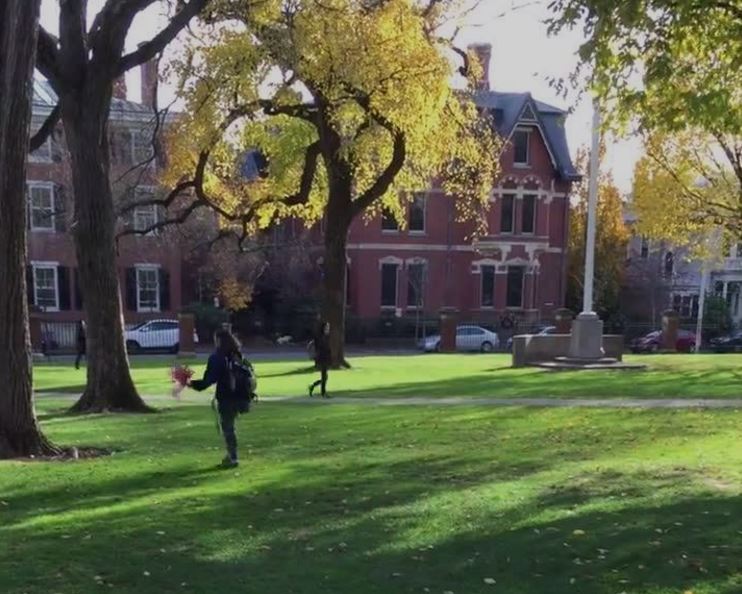 The day before Veterans Day, students at Brown University in Rhode Island destroyed American flags that had been put on display in honor of veterans.
The university holds an annual Veterans Day ceremony at their Providence, Rhode Island campus every year. The event is held on Veterans Day, where student veterans and ROTC undergraduates join students, faculty, and staff from across campus. The flags were placed along a walkway to honor those who have served this country.
A Brown student, Nicholas Strada, noticed the flags snapped, ripped, and thrown aside.
Nicholas started recording (see video below) to show a woman holding a dozen flags and throwing them down on the ground beside a tree.
Nicholas Strada wrote on his social media page, "I spent 1.5 hours outside taping them back together and putting all of them back in the ground, with a few confrontations. Only 2 people out of hundreds of people that passed by stopped to help."
The university released the following statement:
"We are investigating the accounts of vandalism to American flags set out on Browns Collage Green to celebrate Veterans Day. We do not condone the activities that led to flags being removed, and destruction of property is subject to disciplinary review."
One student wrote, "I'd like to appreciate everyone who has been removing the flags from the Main Green. As much as I know that these flags are there to represent Veterans Day, when I look at them, all I feel is overwhelming nausea, and all I see is a symbol of the oppressing white nationalism that has jeopardized myself and so many others at Brown and abroad." The student wrote it on the Brown Bears Admirers Facebook page. The page allows students to "express their feelings" anonymously.
Another student wrote, "F**k the flag."
On Strada's post, Owen Bonaventura, wrote, "I just want to let you know that you are not alone! I find it quite comical how the liberals pride themselves in social acceptance, political-correctness, and use slogans like "love trumps hate" and yet when they don't get their way, they are hating on the country that they expect to give them everything!"
Many universities — such as Brown, Harvard, Yale, and Columbia, have "concerned" students who are now trying to petition administration to convert Ivy League schools into a sanctuary for illegal immigrant students who could face deportation.
Of the universities mention, all of them have been accused of coddling their students.
A student from Yale told Fox News that the university "basically lets the students run the show."
Many of the universities also employee illegal immigrants.
I am posting this again…make it go viral it's public!
Today was a sad day…Hundreds of flags were set up on the main green of Brown University by 2 VETERANS in honor of Veterans Day tomorrow, and when i got out of class, people had snapped them, ripped them, and threw them aside (in the video). I spent 1.5 hours outside taping them back together and putting all of them back in the ground, with a few confrontations. Only 2 people out of hundreds of people that passed by stopped to help. One person actually stomped on and snapped all of the ones I put back and when i asked her to stop and explained that they were for Veterans Day she said "I don't care about that". Always stand up for what you believe even if you have 6 thousand people against you and dont step on my flag. 🇺🇸

Posted by Nicky Strada on Thursday, November 10, 2016