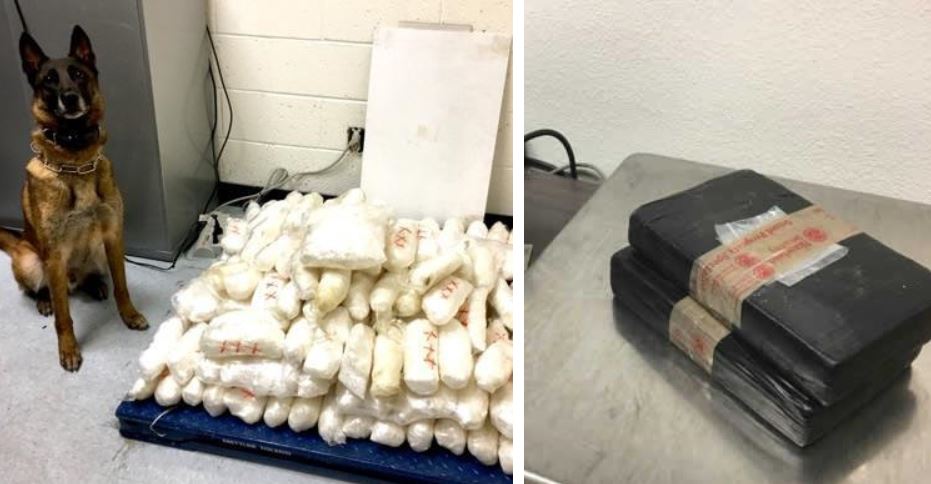 YUMA, Ariz. – On Thursday, July 18, Homeland Security Investigations (HSI) Yuma special agents arrested Alejandro Escobar-Rivera, 51, and seized 221.22 lbs. of methamphetamine and 5.0 lbs. of cocaine with a combined approximate street value of nearly $4.1 million, as well as multiple cell phones, in a targeted enforcement action led by HSI.
The enforcement activity began when the Yuma County Sheriff's Office (YCSO), while conducting traffic enforcement July 18 in the area of Avenue B and 24th street, observed a vehicle speeding while traveling northbound on Avenue B approaching 24th street. YCSO proceeded to initiate a traffic stop. Deputies requested the assistance of YCSO K-9 "Jax" which lead to the discovery of approximately 221.22 lbs. of methamphetamine, 5.0 lbs. of cocaine and the arrest of Escobar-Rivera.
Based on the quantity of seized contraband and the arrest, HSI Yuma special agents were contacted to continue the investigation. Based on the findings during the traffic stop and the subsequent investigation conducted by HSI special agents, it was discovered that Escobar-Rivera was delivering furniture on behalf of Alex Furniture located at 313 West Main Street in Somerton, Arizona. Further investigation conducted by HSI Yuma special agents and the Yuma County Narcotics Task Force (YCNTF) resulted in the additional arrest of one Alex Furniture employee on immigration violations and the seizure of numerous cell phones.
The driver was presented and charged with multiple Arizona state drug charges including importation/transportation of dangerous drugs and possession of narcotics for sale.
HSI special agents were assisted by detectives with the YCNTF and officers with the U.S. Customs and Border Protection Office of Field Operations assigned to the HSI Border Enforcement Security Task Force, as well as the Somerton Police Department.
HSI also would like to commend YCNTF K-9 "Jax" who, since June 2, has successfully assisted in two separate traffic stops resulting in the discovery of narcotics totaling a combined weight of 748.52 lbs. of methamphetamine and 5 lbs. of cocaine.
This matter has been referred to the Yuma County Attorney's Office to be reviewed for prosecution. The defendant is presumed innocent until proven guilty in a court of law.