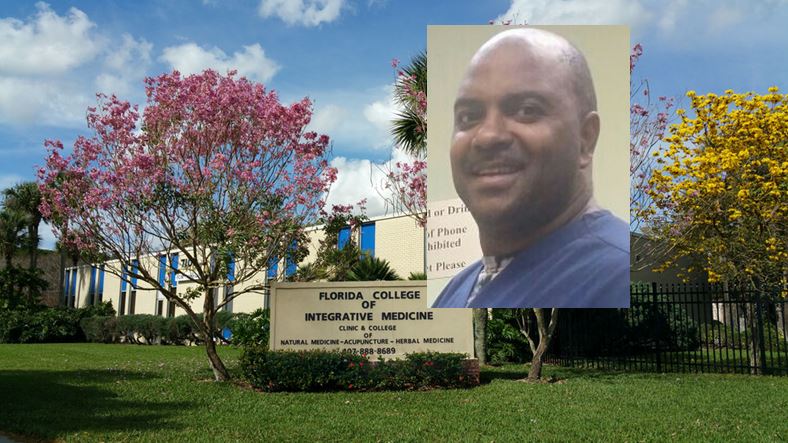 Orange County – An Orlando college is being accused of not protecting its gay female students after a male student allegedly touched himself while the victim was present.
Female students at the Florida College of Integrative Medicine, located at 7100 Lake Ellenor Drive, Orlando, say the school did not take the proper action when the incident was reported.
A female student, who cannot be named for her protection, alleges that another student, Walter Ravon Dawson, 47, was touching himself during class.
The alleged victim reported the incident to campus administration and told them that she was uncomfortable around Dawson. Instead of changing the victim's schedule, the school said that they did not find any truth to her allegations.
On May 12, the Orange County Sheriff's Office responded to the school to conduct an investigation, according to reports.
The victim told the officer that Dawson was making a hand motion under the table and that, she thought he was rubbing his penis. She stated that she could not actually see his hand, but because of the motion of his leg bouncing up and down she thought he was touching himself.
In an unrelated incident, the female told a deputy that Dawson kissed her on the forehead.
The female, who is gay, told the deputy that she did not provoke the kiss.
Another student said Dawson, on several occasions, made racial comments about having a "white girl's ass".
The responding deputy could not conclude that Dawson had committed a sexual assault and did not arrest him, according to reports.
Students at FCIM said they feel Dawson is a dishonest person.
Students stated that Dawson had told them he worked for Florida Hospital on several occasions. When asked if they would employee a person with a pattern of abuse, Florida Hospital said no and that, Dawson has never worked for the hospital. Further investigation revealed that Dawson is actually employed by the Publix Distribution Center, located at Goldenrod Road, Orlando.
FCIM refused to comment.
On October 21, 2002, a domestic violence injunction was filed against Dawson after his now ex-wife alleged that Dawson had struck her. Dawson eluded arrest in that case as well.
The Orlando Police Department also investigated Dawson on November 13, 2004.
Police said that DCF investigator Samantha Taylor opened an investigation on September 23, 2004, when DCF received a call at approximately 8:50 a.m., from a witness who stated that Dawson had struck a child. (redacted case file)
The caller told investigators that Dawson had struck a young female (not related to Dawson) on her rib-cage.
When questioned, Dawson lied and told investigators that he had only hit the girl on her butt "because she would not listen." However, investigators reported that the child had red marks on her ribs that were consistent with being struck.
The child also told authorities that Dawson had hit her on the ribs, which was consistent with what the witness had reported.
Police met with the DCF investigator in November. The witness' statement never changed, and corroborated what the child had originally told investigators. However, Dawson was never arrested for his crime.
The case remains open, according to the police report.
Investigators stated that physical abusers typically choose the rib-cage area in order to conceal the bruises from others.
Dawson has two arrests for Driving on a Suspended Driver's License and one for Driving with an Invalid Driver's License. Dawson was required to pay a $500 bond each time.
This story was originally published on Orlando Globe.